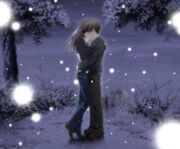 This Article, Kissed, is property of Cocoabean.
Kissed is the first season in The Love Series. It details the love story of Kaila Jameson and Marcus Curry.
(THE CAMERA CENTERS IN ON A DARK BROWN HAIRED GIRL WALKING THROUGH SCHOOL)
Kaila: (FIXES GLASSES, THINKING) I hate this fucked up school! Everyone thinks I'm a geek or a bitch! Well...I wish I could bash them all up. (BUMPS INTO ANOTHER, LIGHT BROWN HAIRED BOY)
Marcus: (THINKING) Who the hell bumped into me? They'll get an ass who- (LOOKS AT KAILA)
Kaila: Oh my god, I'm so sorry! I wasn't lo- yeah, I wasn't looking tha-that way! (BLUSHING, HEAD DOWN, HELPING WITH BOOKS)
Marcus: (BLUSHING) Me too..I'm sorry....erm...(STAMMERING)
Kaila: It's Kaila. You seem nice..hey, want to study around my place sometime? (THINKING) I may be lying..but his perfect face is seducing me...AAH! I don't know him! And he's the biggest asshole at school, Marcus!
Marcus: Sure.. Where's your place? (THINKING) I am such a fucking idiot. Look at her chest! And that ass and her face..! DAMN! She's hot and smart. I can't stop thinking about what I'd do if she'd let me..SHIT! She's just a girl, and probably a bitch too.
Kaila: (SAYS HOUSE LOCATION) Alright..I'll see you there, Marcus...(WAVES AND WALKS HOME WITH MARCUS, THINKING) Wow..He's following me..GOD! I don't know this jackass!
Marcus: (THINKING) Why am I following this bitch?
(A FEW MINUTES LATER.. KAILA AND MARCUS WALKED HOME AS TWO GIRLS AND TWO BOYS APPROACHED HER)
Female Bully 1: Oh look, it's the new geek!
Female Bully 2: Let's kick her ass, Jordan.
Marcus: (THINKING) Damn them..Why are they talking about her?!
Jordan: She's probably a skank, Carly.
Kaila: (STARTING TO CRY) Shut up..YOU ASSES!
Corey: Aw, look! The bitch stands up to the pimps! No ordinary girl would have her tits and her ass!
Female Bully 2 (Carly): I know, let's kick her ass already, Sherie!
Female Bully 1 (Sherie): Let's go!
(AS SHERIE AND CARLY BEGAN TO KICK HER ON THE GROUND, MARCUS STEPPED UP AND BEAT UP THE FOUR BULLIES)
(A FEW MINUTES LATER)
Marcus: (BLOODIED FIST) YOU..LEAVE HER ALONE!!!!!!!!!! (PUNCHES COREY'S TOOTH OUT AND BREAKS SHERIE'S LEG)
Corey: AAH! Shit! He's crazy! Let's go, guys! He probably's gonna shank us! (THEY ALL RUN AWAY)
Kaila: (ON GROUND) Ma-marcus..?
Marcus: Ah! Kaila! (HELPS HER UP) Sorry about that..those assholes..
Kaila: I liked how you stood up for me..So..studying?
Marcus: Sure!
(THE TWO WALKED HOME)
Love, Love is a Verb
Edit
(MARCUS WAVED GOODBYE TO KAILA AS HE CARRIED HIS BOOKS)
Kaila: Alright..See you tomorrow?
Marcus: Tomorrow, then. (THINKING) Damn, what do I see in her? Other girls just..."like" me because I'm the strongest guy. I've apologized to her and helped her so many times..She just makes me smile and...I think I might love her..
Kaila: (IS ODDLY CLOSE TO MARCUS AND BLUSHES) Well..alright..see you. (IS SNOWING HEAVILY OUTSIDE) Want me to help you out? You might get lost.
Marcus: Wha? Alright.
(THE DUO STARTS WALKING TO MARCUS' HOUSE. WHEN THEY REACH HIS YARD, KAILA IS ONCE AGAIN, ODDLY CLOSE TO HIM)
Kaila: Alright..(BLUSHING) Well...tomorrow.. (THINKING) Why...Why does he infatuate me? I just want to see...what's under his.. AGH! Stop with the naughty thoughts, Kaila! But...if this is real love..IF...don't have my heart broken, Jesus...
Marcus: Okay. (GETS EVEN CLOSER TO KAILA AND BEGINS TO HOLD HER)
Kaila: (IS BLUSHING) Ma-marcus..? (WRAPS ARMS AROUND HIM)
(THEY BEGAN TO GET EVEN CLOSER AND THEIR LIPS TOUCHED AS HEAT COURSED THROUGH BOTH OF THEIR BODIES)
Marcus: (THINKING) I....can't let go..I don't want to...
Kaila: (THINKING) Stop...enchanting me...
(MARCUS LET GO AS THEY BOTH BLUSHED AND THEY WALKED AWAY, NOT EXCHANGING A WORD.)
Incomplete
Ad blocker interference detected!
Wikia is a free-to-use site that makes money from advertising. We have a modified experience for viewers using ad blockers

Wikia is not accessible if you've made further modifications. Remove the custom ad blocker rule(s) and the page will load as expected.