This Article, Olympian Facebook, is property of ExtremeSSJ4.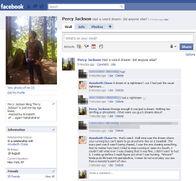 Hello this is a humor story created by ExtremeSSJ4 about facebook and the olympians, hope you guys like i
Characters
Edit
XXPercyXJacksonXX (Percy Jackson)
TheSmartGirl (Annabeth Chase)
XXPercyXJacksonXX
Edit
Just came from my friends funeral :'(
Hades4Death likes this
Comments:Edit
TheSmartGirl
I am sorry babe :(
Ad blocker interference detected!
Wikia is a free-to-use site that makes money from advertising. We have a modified experience for viewers using ad blockers

Wikia is not accessible if you've made further modifications. Remove the custom ad blocker rule(s) and the page will load as expected.