This Article, One Piece: Jet Rumble, is property of Zeon1.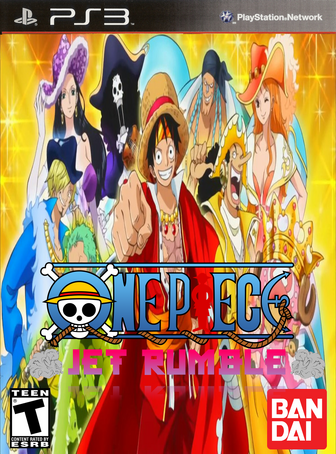 One Piece: Jet Rumble (ワンピース:ジエト ラムブル, Wan Pisu: Jeto Ramburu) is a 2013-2014 fighting video game developed by Studio 41 and released for the Xbox 360, the Playstation 3, and the Wii U in Japan on December 31st, 2013, and in Europe and North America on January 1st, 2014. The game is the first One Piece fighting game released on the current generation of vide-game consoles. A sequel, One Piece: Jet Rumble 2, has been announced to be released on the Eighth Generation of Video Game Consoles. 
Development
Edit
Game Modes
Edit
Ad blocker interference detected!
Wikia is a free-to-use site that makes money from advertising. We have a modified experience for viewers using ad blockers

Wikia is not accessible if you've made further modifications. Remove the custom ad blocker rule(s) and the page will load as expected.