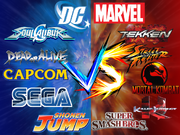 Versus is a community project made. Its created by The Creator: ExtremeSSJ4. If you didn't know what a community project is well then I'll tell you. A community project is a project for all the users on the wiki. Anyone can make a story here just leave a comment below. Versus is about a universe fighting another universe (Example: Marvel vs DC). Each season has 10 episodes.
The episodes must be rated
If there is sexual content then you must put the rating template or a warning
All pages must be the same style
You must leave a comment if you want to join
All writing styles are allowed
No horrible spelling and grammar comedies
ExtremeSSJ4 (Creator)
Theme Songs
Edit
1st Season- ? 2nd Season- ?
Episode List:
1.) Destruction Wave (Superman vs. Thor)
2.) Demons Clash (Michael Myers vs. Freddy Krueger)
3.) Fast Food Champion (Mcdonalds vs KFC)
4.) The Last One Standing (Dragon Ball Z vs Transformers)
5.) <TBA>
6.) <TBA>
7.) <TBA>
8.) <TBA>
9.) <TBA>
10.) <TBA>
Season 2
Edit
Episode List:
1.) Clash of the Titans (Marvel vs DC)
2.) <TBA>
3.) <TBA>
4.) <TBA>
5.) <TBA>
6.) <TBA>
7.) <TBA>
8.) <TBA>
9.) <TBA>
10.) <TBA>